ABOUT US

Thank you for your interest in Wesley-Harper UMC, where "Everybody is Somebody, and Christ is ALL." Wesley-Harper United Methodist Church is a diverse family of friendly, caring, welcoming, and serving individuals. It is our intention and our mission to endeavor to share the good news of Jesus Christ in the community and throughout the world by offering Christ to all. We stretch out our hands and open our hearts through our Kindness Ministry, such as participation in disaster relief (in the community & worldwide), and gifts of cold water on a very hot Texas day to community workers or to anyone in need. We share a hot meal with the community on a chilly December evening as we invite everyone "Home" to Wesley-Harper for Christmas. At WHUMC, there are many doors through which we serve Christ. We wait with anticipation for your visit to Wesley-Harper UMC, and we hope that you will discover something here to encourage you in your spiritual journey. We welcome you from the parking lot to the pew, and we look forward to the opportunity of fellowship with you. Together, with Christ, we can make a difference. The people of Wesley-Harper United Methodist Church.
Wesley-Harper United Methodist Church of Seguin, Texas is a member of the Rio Texas Conference and Cross Roads District.
Wesley Chapel History: Wesley Chapel United Methodist Church was organized in 1877 by a group of dedicated Christian trustees. With pioneering spirit and Christian faith, a small plot of land was purchased from George Walker, for $100.00 and a church was constructed. The name of this church was Wesley in honor of John Wesley, the founder of Methodism. As years passed, the church grew and many blessings allowed these Christians the opportunity to expand and purchase additional land in 1889 and again in 1925. The present church building located on West Court Street was erected in 1947 under the pastorship of Rev I.A. Pointer.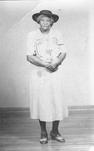 Harper Chapel History: In 1919, not far form Seguin, the Harper Chapel United Methodist Church was organized under the original name of Mill Creek Protestant Methodist Church. The church relocated twice during early years. In 1938, the church moved to Kingsbury, where service was held in the W.M. McDonald Lodge Masonic Hall. The church finally moved to Seguin in 1940. Worship services were held in the Barry Anderson store until a chapel was erected on the corner of Third and Sixth streets. The new structure was then named Harper Chapel after Sister Maggie Harper.

Maggie Harper pictured here.



---
Harper Chapel, Rebuilt March 16, 1958
Trustees:
Elmer Jackson
Hildred Adams
Turner Harper
Sherman Jackson
Garner Anderson
Rev. W. L. Anderws, Pastor
Rev. P. L. Woods, Dist. Superintendent

Wesley Chapel, Rebuilt 1947
Trustees:
G. T. Ware – Chairman
Cersy Anderson – Treasurer
George Walker
Katherine Smith
Silas Wright
Alice Murphy



Trustees Continued:
George Hardaway
J.P. Phillips
Matthew Hicks
Rev. Irva A. Pointer
R.N. Brooks – Residing Bishop
I.B. Loud – District Superintendent

Wesley-Harper United Methodist Church originated Thursday November 19, 1970, when Wesley Chapel and Harper Chapel united. Wesley-Harper UMC occupies what was formerly known as Wesley Chapel. The Wesley-Harper family celebrates their heritage and remembers the Wesley Chapel and Harper Chapel pioneers who prayed, praised, worked and saved to construct what is now called Wesley-Harper UMC. We are eternally grateful to God and to our ancestors for the legacy of love and ministry that we carry on today. Under the guidance and pastorship of many faithful pastors, Wesley-Harper has continued to grow in God's strength and grace. Our members continue in our motto of "Enter to Worship, Depart to Serve", and we stand strong in our purpose to outreach, nurture, and minister. Our members serve enthusiastically in outreach by collection and donation of food and clothing for those in need, heating assistance for our elderly members, Kindos Kiddz in-service tutorial. Wesley-Harper is a place where Everybody is Somebody and Christ is All.
MUSIC, ARTS AND WORSHIP

Altar Guild
Media Ministry
Greeters
Hospitality / Welcoming
-Anniversary Events (Musical and Celebration) - Nov 19, 2017
- Church Christmas Musical
-Maunday Thursday reenactment Thursday before Good Friday



WEEKLY WORSHIP OPPORTUNITIES

Sunday Worship..................................................................9:00 am
Communion - Every 1st Sunday During Worship .............9:00 am
Choir Practice ..................Every Thursday ........................6:30 pm
Bible Study .............Every Other Wednesday ....................6:00 pm
Midweek Prayer .........Every Other Wednesday ................6:00 pm